Jana Duggar is the first born daughter of Jim Bob and Michelle. Jana is the older twin sister{{characters
image =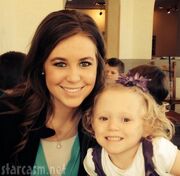 |character name = Jana Marie Duggar |first = 14 Children and Pregnant Again |number = 2 |gender = Female |nationality = American |born = January 12, 1990 (age 24) |parents = Jim Bob Duggar
Michelle Duggar|sign = Capricorn |siblings = Joshua Duggar
Caleb Duggar
John David Duggar
Jill Duggar
Jessa Duggar
Jinger Duggar
Joseph Duggar
Josiah Duggar
Joy-Anna Duggar
Jedidiah Duggar
Jeremiah Duggar
Jason Duggar
James Duggar
Justin Duggar
Jackson Duggar
Johannah Duggar
Jennifer Duggar
Jordyn Duggar
Josie Duggar
Jubilee Duggar
Tyler Hutchins
==Biography==

Favorite Bible Verse: Proverbs 3:5-7
Favorite Bible Characters: Esther, Job
Favorite Song: To God Be The Glory
Favorite Episode: Duggar's Explore Central America
Jurisdictions/Work: Kitchen, meal preparations, Tontitown Fire Department Volunteer First Responder
Favorite Past-time: Spending time with family, playing violin, piano and harp
Favorite Family Trip: Big Sandy, Texas ATI Homeschool Conference
Future Plans: Wife and Mother
Personality
Caring
Gentle
Can manage a household
Season One
Jana travels with her family to New York City. She and her siblings also discover that their parents are expecting baby number 18.
Gallery
Trivia
Jana walked at 9 months, whereas some of the others waited until they were 12 months to walk.
Ad blocker interference detected!
Wikia is a free-to-use site that makes money from advertising. We have a modified experience for viewers using ad blockers

Wikia is not accessible if you've made further modifications. Remove the custom ad blocker rule(s) and the page will load as expected.