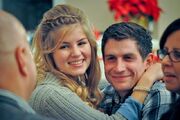 Erin Elise Paine(neé Bates) was born on May 2,1991,and is the second daughter born to Gil and Kelly Bates.She became engaged to Chad Paine in August of 2013,and was married on November 2, 2013. Erin is a enthusiastic pianist and recently graduated from Crown College with a music degree. She is expecting a baby boy on June 8,2015.
Ad blocker interference detected!
Wikia is a free-to-use site that makes money from advertising. We have a modified experience for viewers using ad blockers

Wikia is not accessible if you've made further modifications. Remove the custom ad blocker rule(s) and the page will load as expected.